A Busted Sewage Pipe Ruined An Osage Beach Condo Pool, And Residents Want The City To Pay | Lake Of The Ozarks Politics & Government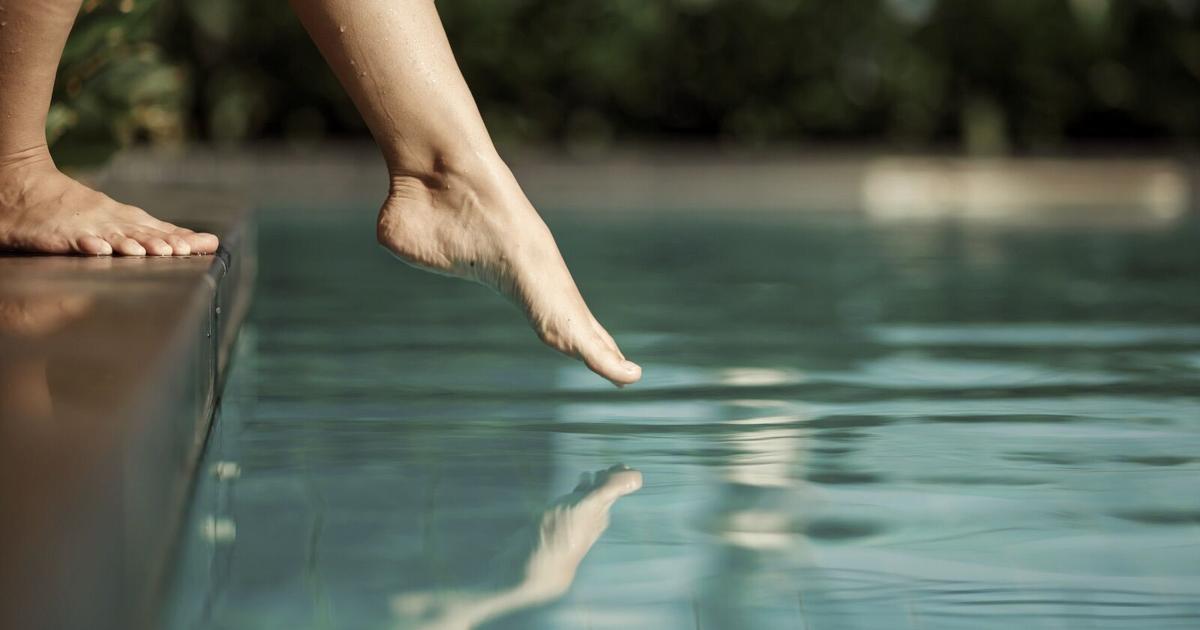 OSAGE BEACH, Mo. — When the historic freeze of 2021 put the Midwest and Deep South on ice, it also busted a city sewage pipe next to an Osage Beach condo's swimming pool, filling the pool with sewage. Now, condo owners are asking the city to pay for the repairs.
"We've gone two seasons without our pool," Gary Johnson, president of the Grand Harbor Home Owner Association, told the Osage Beach Board of Aldermen last week. 
Johnson along with other condo owners from Grand Harbor Condominiums appeared before the Osage Beach Board of Aldermen on Thursday, Sept 15. "We don't want to go another season," Johnson said. "We're running out of time. Please help."
Owners spoke in support of an ordinance proposed by Mayor Michael Harmison that would contract the city to repair damages to the condo's swimming pool after the pool was filled with raw sewage from a ruptured city sewage pipe that burst last year.
Although the city fixed the pipe after it burst in 2021, the condo pool is still unusable. The condo owners and the city have been back and forth to get a bid from contractors for repairs to the pool. The city had offered $19,200 for repairs, but the bid the owners received would put the repairs at $117,456.39.
"The mayor has been the only one to try to help us," said one of the neighbors affected by the sewage issue. "If you people had this, you would not have this in your own home. You would not put your children and your grandchildren and your families at home in danger, and I'm not going to allow it either!" 
When introducing the ordinance to agree to the bid brought by owners, Mayor Harmison spoke in support of assisting the condo owners. 
"When I was elected, I found out about this problem, I reached out and went to the pool to take a look. And everything they say is true," Harmison said. "And the more I dove into into this, the more I thought why the heck we didn't do anything about this."
He went on to say that it was the city's responsibility to resolve this issue, even if they could possibly get out of it legally. 
"Legally, we might be able to fight this, we might be able to say it's sovereign immunity, we might say it's an act of God. But I think we should be fixing these people's pool," Harmison said.
However, although the aldermen agreed that the pool should be fixed, several stated that they couldn't agree to pay with only a single bid.
"Obviously, we're all very sympathetic. It's tragic what's happened and I can't imagine myself being in that situation, but we have never, since I've been on the board, paid anything unless we had estimates that were more than one bid," said Alderman Phyllis Marose. "The point being, this is one company, and we'd be going against our standards."
Alderman O'Steen also made a point to reference why past negotiations they had had with condo owners had floundered. O'Steen said the delay in repairs was caused in part because the condo owners had submitted the first bid for repair work 11 months after the incident. 
"That bid was not to repair the pool, that bid was to replace the pool, converting it from its current state into a salt water pool. That's a little different then saying you wanted to basically fix it to the state it was in when the incident occurred. That was pie-in-the-sky, let's-shoot-for-the-moon and not just repair it but ask for an all-new saltwater pool," O'Steen said. "That's why that first bid was rejected, because we have a fiduciary responsibility to taxpayers to basically spend money in a sound manner." 
No motion was made to approve the ordinance.
$3,250,000
Smarter Move Real Estate Group
+1(573)544-3587
Currently Open
$675,000
Bedrooms: 4
Bathrooms: 3
Square Feet: 2240 ft2
Keller Williams Lake of the Ozarks Realty
+1(573)348-9898
Currently Open
$2,690,000
Bedrooms: 6
Bathrooms: 6
Square Feet: 5174 ft2
Keller Williams Lake of the Ozarks Realty
+1(573)348-9898
Currently Open
$69,900
Bedrooms: 2
Bathrooms: 1
Square Feet: 864 ft2
RE/MAX Lake of the Ozarks
+1(573)302-2390
Currently Open
$560,000
Bedrooms: 4
Bathrooms: 3
Square Feet: 2296 ft2
RE/MAX Lake of the Ozarks
+1(573)302-2390
Currently Open
$599,000
Bedrooms: 5
Bathrooms: 3
Square Feet: 2096 ft2
+1(573)374-2555
Currently Open
$699,900
Bedrooms: 3
Bathrooms: 3
Square Feet: 2915 ft2
RE/MAX Lake Of The Ozarks
$1,100,000
Bedrooms: 4
Bathrooms: 3
Square Feet: 3000 ft2
$400,000
Bedrooms: 3
Bathrooms: 3
Square Feet: 2000 ft2
Smarter Move Real Estate Group
+1(573)544-3587
Currently Open
$1,474,900
Bedrooms: 5
Bathrooms: 4
Square Feet: 3555 ft2
RE/MAX Lake of the Ozarks
+1(800)836-2005
Currently Open
$750,000
Keller Williams Lake of the Ozarks Realty
+1(573)348-9898
Currently Open
$625,000
Bedrooms: 4
Bathrooms: 3
Square Feet: 3958 ft2
Keller Williams Lake of the Ozarks Realty
+1(573)348-9898
Currently Open
$1,150,000
Bedrooms: 4
Bathrooms: 4
Square Feet: 3300 ft2
Keller Williams Lake of the Ozarks Realty
+1(573)348-9898
Currently Open
$295,000
Bedrooms: 2
Bathrooms: 2
Square Feet: 820 ft2
+1(573)348-2181
Currently Open
$315,000
Bedrooms: 3
Bathrooms: 3
Square Feet: 2059 ft2
$999,000
Bedrooms: 5
Bathrooms: 6
Square Feet: 3827 ft2
Keller Williams Lake of the Ozarks Realty
+1(573)348-9898
Currently Open
$1,250,000
Bedrooms: 4
Bathrooms: 4
Square Feet: 3000 ft2
Smarter Move Real Estate Group
+1(573)544-3587
Currently Open
$399,999
Bedrooms: 2
Bathrooms: 2
Square Feet: 1216 ft2
+1(573)374-2555
Currently Open
$9,999,999
Bedrooms: 7
Bathrooms: 12
Square Feet: 12800 ft2
$525,000
Bedrooms: 3
Bathrooms: 3
Square Feet: 2196 ft2
Smarter Move Real Estate Group
+1(573)544-3587
Currently Open
$495,000
Bedrooms: 3
Bathrooms: 2
Square Feet: 1236 ft2
Missouri
+1(573)216-4350
Currently Open
$295,000
Bedrooms: 3
Bathrooms: 2
Square Feet: 1200 ft2
RE/MAX Lake of the Ozarks
+1(573)302-2355
Currently Open
$389,500
Bedrooms: 4
Bathrooms: 3
Square Feet: 1900 ft2
RE/MAX Lake of the Ozarks
+1(573)302-2355
Currently Open
$3,250,000
Bedrooms: 6
Bathrooms: 7
Square Feet: 6264 ft2
+1(573)348-2181
Currently Open
Bedrooms: 4
Bathrooms: 3
Square Feet: 5400 ft2
$475,000
Bedrooms: 5
Bathrooms: 3
Square Feet: 3454 ft2
Smarter Move Real Estate Group
+1(573)544-3587
Currently Open
$315,000
Missouri
+1(573)216-4350
Currently Open
$299,999
Bedrooms: 4
Bathrooms: 3
Square Feet: 2134 ft2
$3,499,000
Bedrooms: 4
Bathrooms: 6
Square Feet: 6123 ft2
RE/MAX Lake Of The Ozarks
$599,000
Bedrooms: 6
Bathrooms: 6
Square Feet: 2320 ft2
KW Four Seasons Realty
+1(573)569-8792
Currently Open
$525,000
Bedrooms: 5
Bathrooms: 3
Square Feet: 4100 ft2
RE/MAX Lake of the Ozarks
+1(800)836-2005
Currently Open
$3,000,000
Keller Williams Lake of the Ozarks Realty
+1(573)348-9898
Currently Open
$669,878
Bedrooms: 4
Bathrooms: 3
Square Feet: 3012 ft2
RE/MAX Lake of the Ozarks
+1(573)302-2355
Currently Open
$4,200,000
Bedrooms: 7
Bathrooms: 6
Square Feet: 8728 ft2
Berkshire Hathaway HomeServices – Schrimpf Real Estate Group
+1(573)365-7333
Currently Open
$899,000
Bedrooms: 5
Bathrooms: 4
Square Feet: 3348 ft2
RE/MAX Lake of the Ozarks
+1(573)302-2390
Currently Open
$310,000
Bedrooms: 2
Bathrooms: 2
Square Feet: 950 ft2
RE/MAX Lake of the Ozarks
+1(573)302-2355
Currently Open
$449,900
Bedrooms: 3
Bathrooms: 4
Square Feet: 3410 ft2
+1(573)374-2555
Currently Open
$550,000
Bedrooms: 4
Bathrooms: 5
Square Feet: 3024 ft2
Keller Williams Lake of the Ozarks Realty
+1(573)348-9898
Currently Open
$329,000
Bedrooms: 3
Bathrooms: 2
Square Feet: 1318 ft2
RE/MAX Lake of the Ozarks
+1(573)302-2355
Currently Open
$1,095,000
Bedrooms: 5
Bathrooms: 4
Square Feet: 3973 ft2
KW Four Seasons Realty
+1(573)569-8792
Currently Open
$1,250,000
KW Four Seasons Realty
+1(573)569-8792
Currently Open
$950,000
Bedrooms: 4
Bathrooms: 4
Square Feet: 2876 ft2
Berkshire Hathaway HomeServices – Schrimpf Real Estate Group
+1(573)365-7333
Currently Open
$400,000
Bedrooms: 5
Bathrooms: 5
Square Feet: 3882 ft2
Missouri
+1(573)216-4350
Currently Open
$1,900,000
Bedrooms: 5
Bathrooms: 7
Square Feet: 5212 ft2
Berkshire Hathaway HomeServices – Schrimpf Real Estate Group
+1(573)365-7333
Currently Open
$629,950
Bedrooms: 3
Bathrooms: 3
Square Feet: 2316 ft2
$425,000
Bedrooms: 3
Bathrooms: 4
Square Feet: 2490 ft2
+1(573)348-2181
Currently Open
+1(573)348-1299
Currently Open
$204,990
Condition: Used
Mileage: 37
Family Boating Center
+1(573)365-4001
Currently Open
$79,900
Condition: Used
Mileage: 7
$27,900
+1(573)552-8550
Currently Open
+1(573)348-1299
Currently Open
$9,500
+1(573)374-9111
Currently Open
$34,999
+1(573)348-6575
Currently Open
$18,900
+1(573)374-9111
Currently Open
$7,999
+1(573)348-6575
Currently Open
$89,099
+1(573)348-6575
Currently Open
$5,999
+1(573)348-6575
Currently Open
$159,997
Condition: Used
Mileage: 59
Family Boating Center
+1(573)365-4001
Currently Open
$27,999
+1(573)348-6575
Currently Open
$699.99
+1(573)348-6575
Currently Open
$49,999
+1(573)348-6575
Currently Open
Family Boating Center
+1(573)365-4001
Currently Open
Family Boating Center
+1(573)365-4001
Currently Open
+1(573)365-5382
Currently Open
$49,000
+1(573)365-5382
Currently Open
Family Boating Center
+1(573)365-4001
Currently Open
$163,470
Family Boating Center
+1(573)365-4001
Currently Open
+1(573)365-5382
Currently Open
$52,000
+1(573)374-9111
Currently Open
$39,999
+1(573)348-6575
Currently Open
+1(573)365-5382
Currently Open
+1(573)365-5382
Currently Open
+1(573)365-5382
Currently Open
+1(573)348-1299
Currently Open
$88,900
+1(573)374-9111
Currently Open
$58,000
+1(573)374-9111
Currently Open
$15,999
+1(573)348-6575
Currently Open
$29,999
+1(573)348-6575
Currently Open
$28,899
+1(573)348-6575
Currently Open
+1(573)365-5382
Currently Open
$47,299
+1(573)348-6575
Currently Open
Family Boating Center
+1(573)365-4001
Currently Open
+1(573)365-5382
Currently Open