Arroyo Grande Water Damage Specialists Releases Tips for 'Emergency Steps When Your House is Flooding'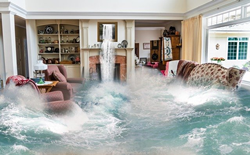 The flood clean-up and repair work must begin as soon as the building can be safely entered.
ARROYO GRANDE, CALIFORNIA. (PRWEB)
November 21, 2021
The first thought when you walk into a bathroom or laundry room and step into a pool of water is to stop the source of water. "It's a logical thought," said Mark Powers of SERVPRO in Pismo Beach / Arroyo Grande, "but maybe not the smartest. Turning off the power at the breaker box could be the first step. "
Powers recently shared tips to help people take the right steps if their home or business is flooded.

Water conducts electricity and stepping into a puddle that has been exposed to electricity can be dangerous. Close the electricity and main gas and water valves to the building.

If the inundation is from rain storms, coastal waves, a river overflowing, or any other natural cause, evacuate immediately to a safe location and call the appropriate authorities.
Broken pipes, pipeline or sewage failures, and leaky roofs can lead to flooding inside a building. Exit the building, turn off the electricity and main gas and water taps. Inform the responsible authorities. Arroyo Grande's water damage professionals can fix and repair any damage after everyone is safe and the flooding has stopped.
If you still have time to evacuate after a natural disaster, cover roofs, board up windows, and use sandbags to divert floods. Turn off the electricity and gas at the main switches and close the main water tap to the building.
If wastewater spills or backs up, remember that the wastewater contains harmful microorganisms. Get everyone, including pets, out of the area and keep them outside until the sewage has been removed and the room sanitized. If the backup has spread to other rooms or is outdoors, you may need to call the local building authority
The flood clean-up and repair work must begin as soon as the building can be safely entered. The sooner water, water-soaked items, and dirt are removed, the better the chance of avoiding costly mold and water damage. The members of the Arroyo Grande water damage team are professional experts in flood damage restoration.
In addition to working closely with most insurance companies and helping property owners with filing and monitoring insurance claims, SERVPRO has a national reputation for cleaning and repairing water damage. The experts can assess the damage and create a remediation plan to then remove the water, even sewage, and repair the damage.
SERVPRO from Pismo Beach / Arroyo Grande

1131 Pike Lane Suite 9

Ozeano, CA 93445

(805) 473-0772
Share articles on social media or via email: