Used kitchen exchange (UKE)
This popular green kitchen is unrecognizable from the boring and outdated space it used to be.
Jennie and Edward Lovett, a couple from St Albans, realized their dream kitchen using repurposed cabinets, resulting in a bright fresh olive drab kitchen that blends seamlessly with the living space.
After struggling to find their dream high street design (her heart beats for olive green), Jennie and Edward sought the help of Used Kitchen Exchange (UKE), a kitchen market that offers used and ex-show kitchens for sale.
"We inspected the kitchen we had bought and UKE dismantled it and delivered it to us. We were going to paint our kitchen anyway, so it was great value and a more sustainable way to modernize our spaces," explains Jennie.
The kitchen is arguably the most important room in the house, but it can also be the most expensive. To keep costs down, Edward enlisted his father's help to install the cabinets and only outsourced the electrical and plumbing work.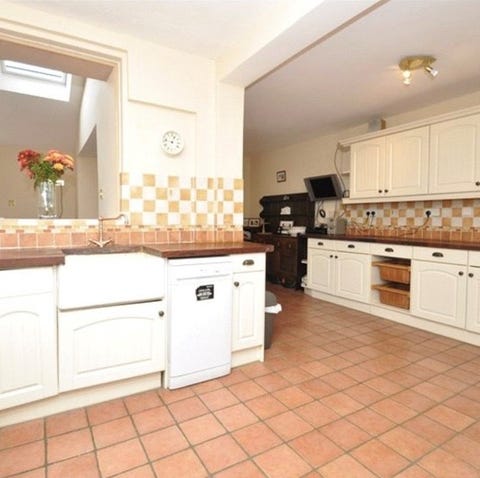 The kitchen before
Jenny Lovett
"The UKE kitchen forms the L-shaped part of the kitchen and we have retained some units from our old kitchen to create the island and added new doors. The doors and the outside of the cabinets have all been primed and painted. We also added new handles," adds Jennie.
As with many DIY projects, there were a few issues here, including a lack of glass for the windows and the tricky kitchen shape. The house had previously been extended on the side and rear, but the interior walls were still in place.
"The corner space for the L-shape was not square, so the units had to be assembled carefully and the countertop was tapered to sit flush against the wall," Jennie continues. "A lot of time went into preparation, measuring and leveling to get the countertop to fit properly. Installing the kitchen was probably the biggest DIY project we've ever done."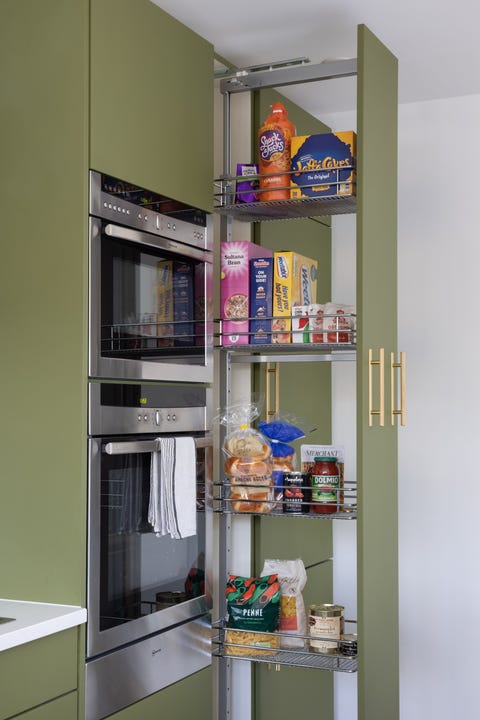 Used kitchen exchange (UKE)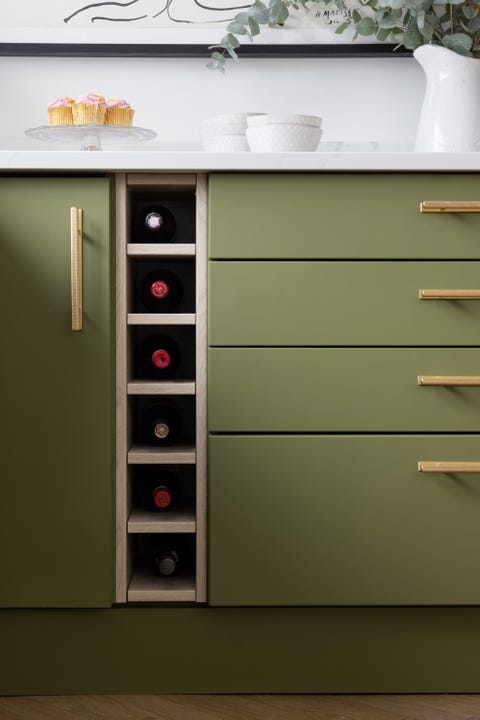 Used kitchen exchange (UKE)
The couple had two must-haves on their wish list: a communal kitchen island and a built-in double oven, more of a range cooker. They saved money by designing the island as a storage function only, meaning no utility connections (e.g. a sink) were required.
Once these were fitted they opted for £3,500 cabinets from UKE, chose new quartz worktops (£4,608) and completed the look with lights, a sink, extractor fan, paint and handles (£1,200). The entire space achieves that perfect balance of practicality and style.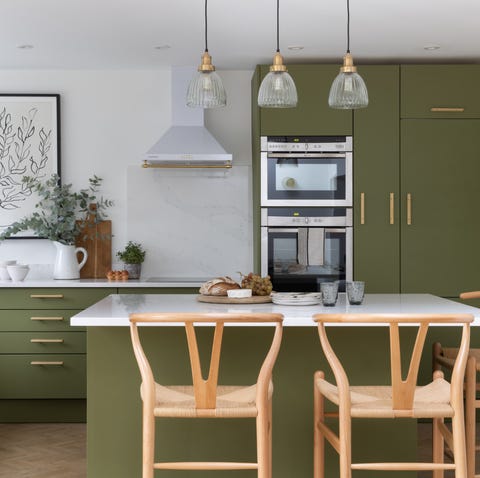 Used kitchen exchange (UKE)
There is a lot to admire in the finished kitchen. Carousel shelving utilizes corner space, while the tall pull-out pantry next to the double oven ensures food is easily accessible as you cook. Jennie and Edward also opted for a quartz top and splashback to match the countertops and create a clean and sleek look.
Used kitchen exchange (UKE)
Elsewhere, full-height cabinets are limited to just one end of the kitchen, making the space feel lighter and brighter. We also love the brushed brass drawer and door handles by Dowsing & Reynolds, as well as the Industville pendant lights over the island.
The olive green color scheme provides a vibrant contrast to the white walls and black window frames, while the glass and brass accents, wooden bar stools and greenery help create a contemporary, calm and inviting kitchen.
"Buying a used kitchen is not as daunting as it sounds when you are buying through a specialist company, it not only saves you money but allows you to create something truly bespoke. It's worth investing in countertops and fixtures as they've made a huge difference," adds Jennie.
Take a look around the finished kitchen…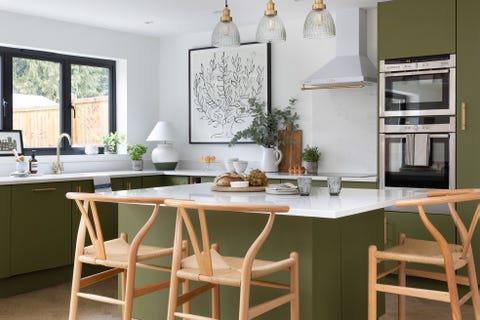 Used kitchen exchange (UKE)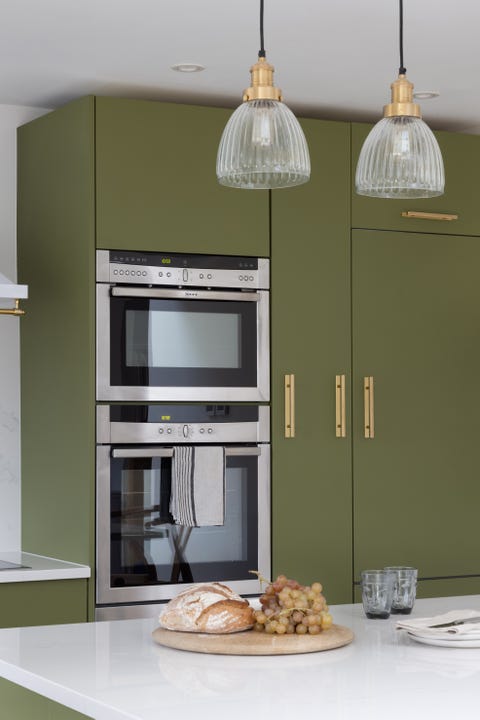 Used kitchen exchange (UKE)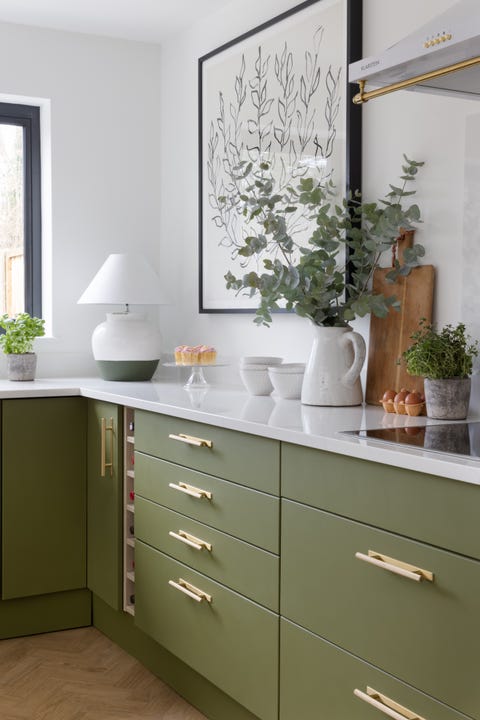 Used kitchen exchange (UKE)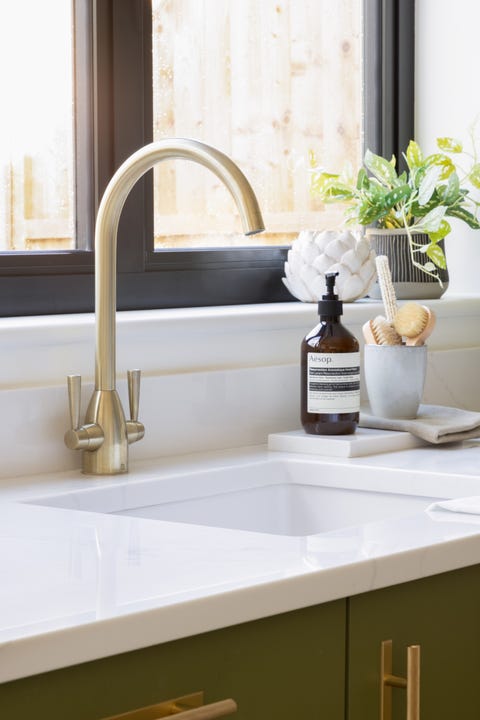 Used kitchen exchange (UKE)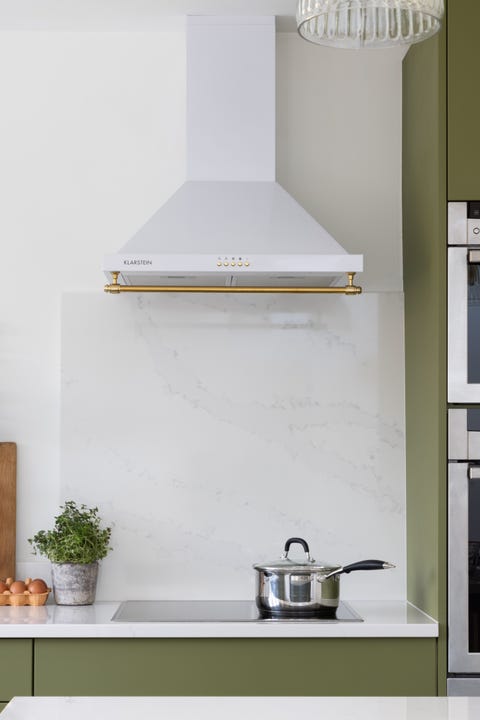 Used kitchen exchange (UKE)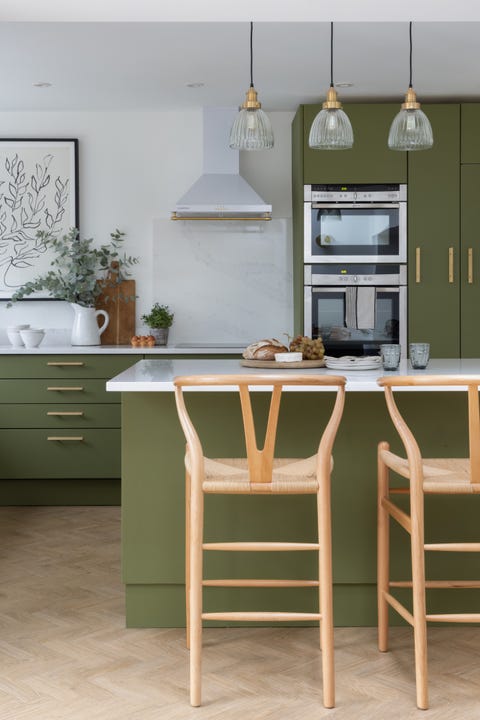 Used kitchen exchange (UKE)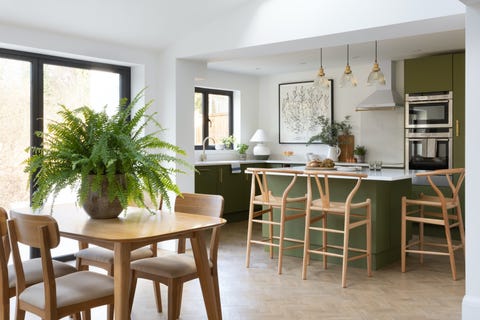 Used kitchen exchange (UKE)
Keep following House Beautiful tick tock and Instagram.
The kitchen processing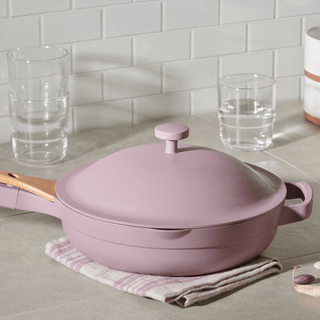 Always swing
fromourplace.co.uk
£125.00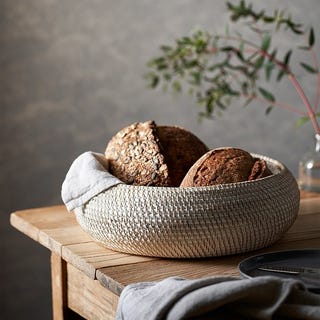 Whitewashed Rattan Round Bowl – Medium
thewhitecompany.com
£59.00
£40.00 (32% discount)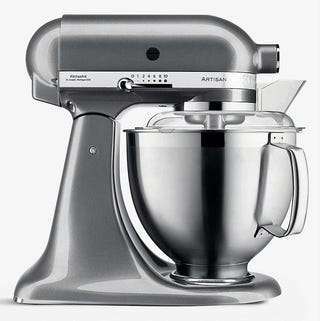 Artisan blender with tilting head 4.8l
KITCHEN HELP
selfridges.com
£649.00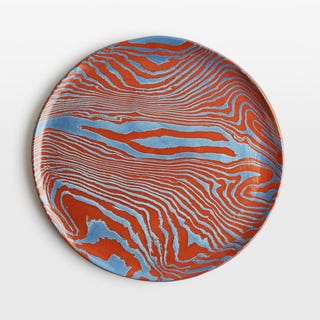 Henry Holland Dinner Plate, Swirl
sohohome.com
£45.00
£26.00 (42% discount)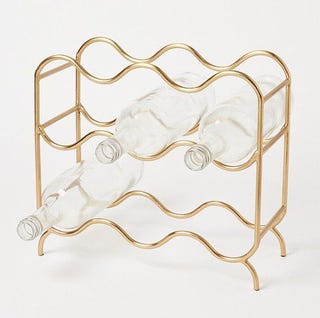 Freestanding gold-tone metal wine rack
oliverbonas.com
£49.50
£37.12 (25% discount)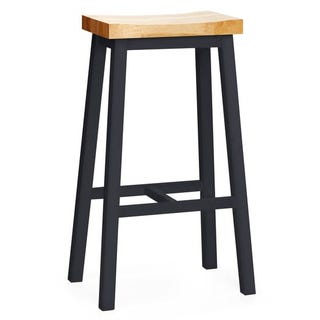 Briston bar stool anthracite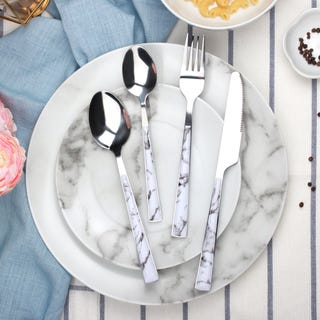 Cahoon 16 piece cutlery set
Subway Alley
wayfair.co.uk
£35.60
£16.99 (52% discount)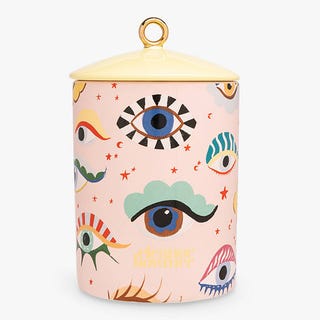 'Focus On You' Eyes Kitchen Storage Jar, Pink
Eleanor Bowmer
johnlewis.com
£19.95