Col. Chad R. Foster, Commander of the U.S. Army Garrison – Fort Hood, and Phillip Carpenter, Chief Operating Officer of the Lendlease Communities, are joined by fellow installation managers as they sever the ribbon on a newly renovated home in the Comanche III family home in the area Fort Hood, Texas, November 9th. The house is one of more than 1,300 that will be renovated in the mail.
(Photo credit: Brandy Cruz, Fort Hood Public Affairs)

VIEW ORIGINAL

FORT HOOD, Texas – Fort Hood Family Housing, a privatized military housing development by Lendlease, unveiled a recently renovated home in the Comanche III family residential area here on Nov. 9, one of more than 1,300 homes to be renovated throughout the Comanche II, Comanche III, and Montague Village.
"The eagerly awaited interior renovations were designed with our residents in mind," says Chris Albus, FHFH project manager. "Not only will they improve the image of our community, they will also ensure that we meet the needs of service workers and their families now and in the future."
The modern renovations included replacing interior and exterior doors and moldings, fresh two-tone paint, new vinyl plank floors, new lighting fixtures, and plumbing fixtures with water-saving benefits. Kitchen upgrades include granite countertops, new cabinets with additional pantries, and Energy Star® stainless steel appliances. The house also includes new heating, ventilation and air conditioning systems designed for comfort and improved air quality.
"That's nice. I lived in a postal flat for about 15 of my 20 years (in the Army), said retired Major Jack Fullerton, vice president of the Fort Hood Resident Advisory Board. "It's more beautiful than anything I've ever lived in and anything I've seen in any of the posts I've been to. For me, that's high quality living. "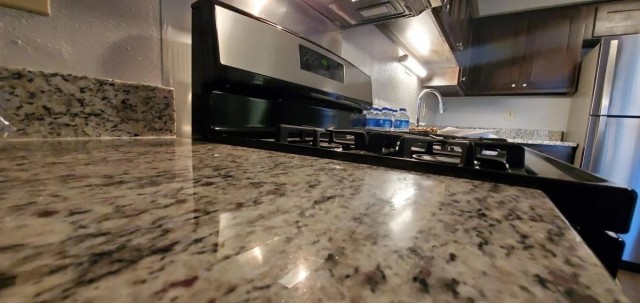 The kitchen in a newly renovated home in the Comanche III residential area of ​​Fort Hood, Texas includes granite countertops, new cabinets, additional pantry, and stainless steel appliances. More than 1,300 homes in Fort Hood are being renovated.
(Photo credit: Brandy Cruz, Fort Hood Public Affairs)

VIEW ORIGINAL

Each house lasts about a month. Albus said in order to disturb the residents as little as possible, they renovate houses when they become empty. They are currently working on 64 renovations. All 1,300 houses should be finished by 2026.
Speaking before the ribbon was officially cut, Albus thanked Col. Chad R. Foster and Command Sgt. Major Matthew Ladd, U.S. Army Garrison – Fort Hood Command Team, for their assistance during the process. The leaders were then invited to take a tour of the three bedroom, two and a half bath house.
"These renovations really not only improve the aesthetics of the home, but also the overall quality and durability of the homes these families will live in," said Foster of the renovations. "Soldiers and families live and work here who carry a heavy burden for our country every day. What we owe to them is the ability to come home and have a nice place to relax, a nice place to sleep and a nice place to raise their children. "
The renovation process is part of a $ 420 million investment in Fort Hood Family Housing that the Lendlease Communities announced in April. After the water and wastewater exchanges are complete, the demolition and subsequent construction of nearly 600 new junior homes in Chaffee Village will begin, which is expected to begin in January 2022. These houses are certified with the strict Energy Star for Homes label and built according to LEED silver standards. In addition, more than 2,500 roofs will be replaced in Comanche I, Comanche II, Comanche III, Montague Village, Venable Village, Kouma Village, Patton Park, and Wainwright Heights communities. A full scope of the planned projects can be found at https://www.forthoodfh.com/community-development.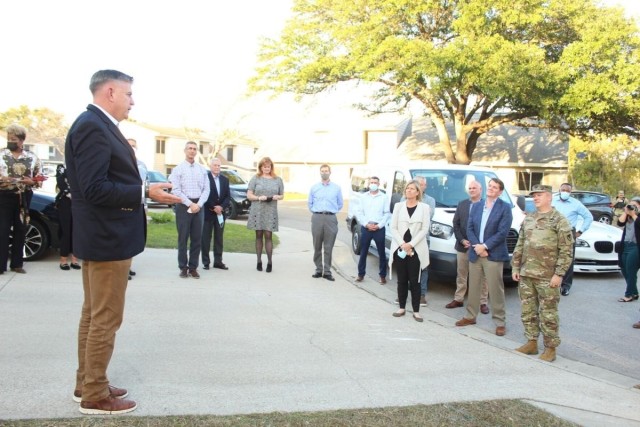 Chris Albus, director of Fort Hood Family Housing, thanks those attending a ribbon cutting ceremony for a newly renovated home in the Comanche III family residential area in Fort Hood, Texas, Nov. 9.
(Photo credit: Brandy Cruz, Fort Hood Public Affairs)

VIEW ORIGINAL

Albus said he was excited to see how happy residents will be when they see the upgrades. As a retired soldier, the FHFH project leader said he lived in apartment buildings and knew firsthand the importance of these improvements to the quality of life for soldiers on Fort Hood.
"It improves the living experience for our residents," added Albus. "I think that's the goal for all of us here on Fort Hood – to really make it a great place to live."