Normal text sizeLarger text sizeVery large text size
Create a tranquil and timeless space for self-care and daily rituals.
organic cotton towels; Bamboo towels "Crème Clouds"; "Avenza" mirror.
Where to buy: Key Piece Loop Home's organic cotton towels ($219 for a five-piece set) blend contemporary design with traditional Turkish weaving techniques. No Issues "Crème Clouds" Bamboo Weave, $3.60. Freedom "Avenza" mirror, $100.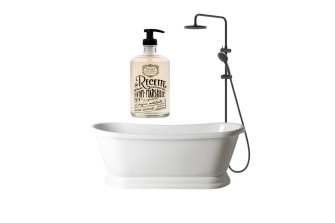 "Saboma" bath; Liquid soap; Wairere shower system.
Where to buy: Early Settler "Saboma" bath, $1799. Panier des Sens Liquid Soap, $35, by Season. Methven "Wairere" shower system, $681, from Cook's Plumbing Supplies.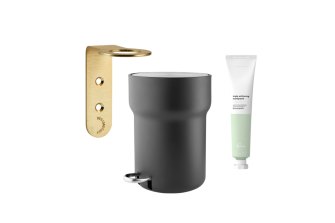 soap dispenser holders; pedal bin; Crisp Mint Toothpaste.
Where to buy: Designstuff soap dispenser holder, $35. Eva Solo Pedal Bin, $250, from Top 3 by Design. Gem "Crisp Mint" Toothpaste, $15.