KEARNEY — Katy Buse is just 17 years old, but her eyes were opened this summer by a seven-day mission trip to El Salvador.
In August, the Kearney High School senior was among 13 members of New Life Church who went to Santa Ana, El Salvador, to help build a house, paint a high school and more.
"I learned that other cultures are beautiful. They are something to cherish, not to try to change. It taught me to have a joy and a love for people, no matter their circumstances," Katy said.
The trip was offered by Kingdom Builders, New Life's robust 20-year program that aims to spread the Gospel both here and around the world. The church calls the trips Global Outreach.
New Life members on the Cuba trip in May included, from left, Derek Waltemath, Nathan Eidem, Pastor Jeff Baker and Tim Farrell.


photos COURTESY of NEW LIFE CHURCH


GO travelers also went to Guymaro, Cuba, and New York City this year, and several more trips are planned this fall.
People are also reading…
"I have a big heart for what God's doing around the world," said Pastor Jeff Baker, who has been to nearly 50 countries in the last 20 years. "Healthy Christianity is being part of something bigger than yourself, and the church itself has to lead the way."
Every January, the church publishes a Kingdom Builders Project Guide, a polished 34-page color booklet that outlines the year's travel opportunities and wider information about the church's missions around the world.
Kingdom Builders' 2023 budget is $522,485. Every penny comes from church members' donations that are given separately from tithing.
Baker called those totals "astronomical," adding, "The amount that people give affects an organization's DNA. If we pulled the plug on missions, this church would die."
Working with local missionaries, GO travelers do whatever is asked of them, from painting and building houses to serving meals to playing with children.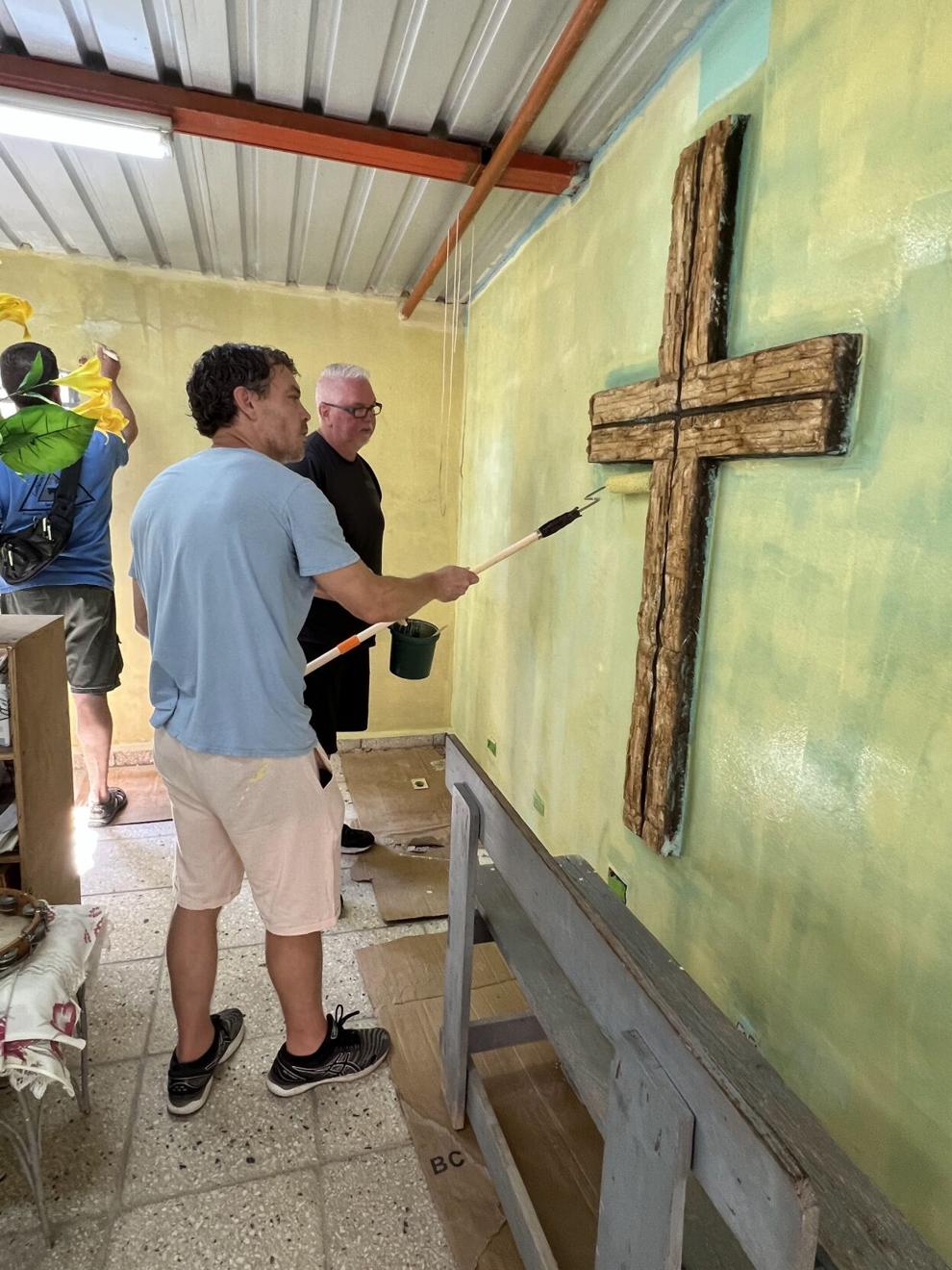 New Life members Nathan Eidem, left, and Pat Waltemath paint walls at a church in Cuba.


COURTESY NEW LIFE CHURCH


Jerry Ott, a retired middle school science teacher, was also on the El Salvador trip. It was his third GO trip, but not his last. "I would go back tomorrow if I could," he said.
At one site, people with addictions brought a plate, a bucket or a canister to get a soup mixture to eat. "This was extremely humbling, even indescribable for me," Ott said.
Debbie Waltemath went to Cuba May 24-31 for the third time. "God kept putting Cuba in my heart through weird things like movies and books, so I went for the first time five years ago. The people are hospitable, kind and so welcoming," she said.
This time, she took her husband Pat — a veteran of GO trips in El Salvador and Panama—and their son Derek, 22. "It had been a dream for quite awhile to go somewhere as a family," Pat said.
Derek had never been out of the U.S. "When the plane landed, I realized we weren't in Nebraska any more," he said.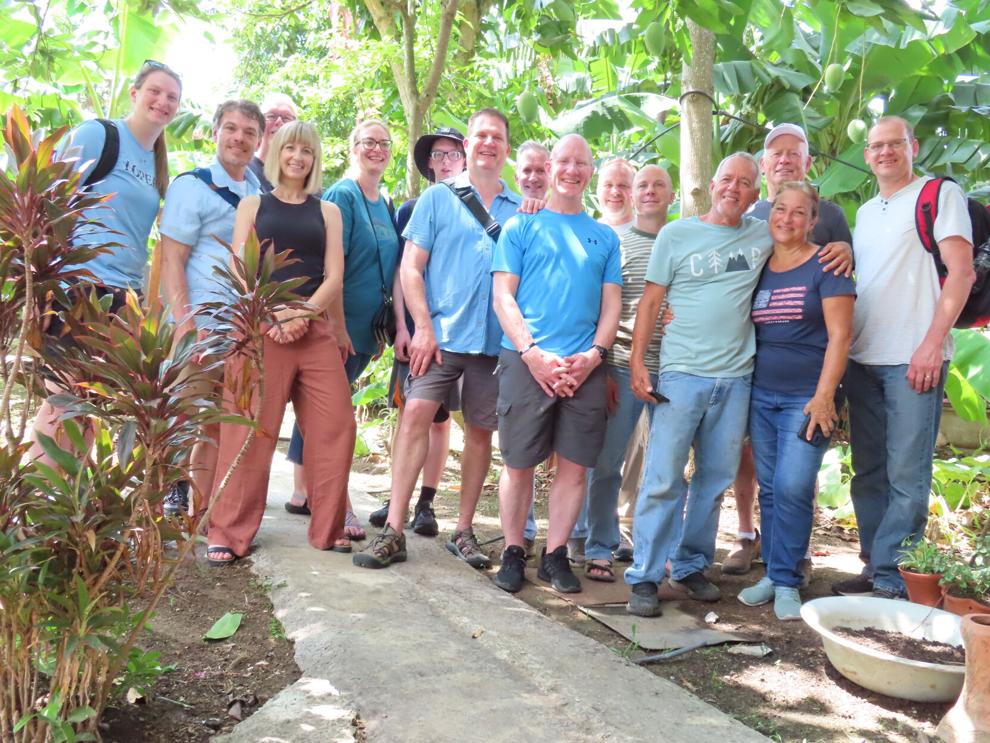 New Life members who went to Cuba May 24-31 include, from left, Brooke Carlson, Nathan Eidem, Pat Waltemath (partially hidden), Becky Holden, Debbie Waltemath, Derek Waltemath (in hat, partially hidden,) Tim Farrell, missionary Daniel Irizarry (partly hidden), Craig Bennett, Pastor Jeff Baker (partially hidden), Paul Christensen, husband wife pastors from Cuba (she in the American flag T-shirt), Stan Smidt and Ron Cone.


COURTESY NEW LIFE CHURCH


The next seven days confirmed that. Derek remembers a pastor who walked around town dressed like a clown and honking a horn to attract children. "He'd blow that trumpet like a wake-up call in the Army and lead the kids up to the church," Derek said.
The Cuban travelers visited churches ranging from large established sanctuaries to one that was just 30 feet wide and 60 feet long. Others were "starter churches" in homes, simple crude lean-tos that were topped by a tarp.
One evening, they helped distribute meals to waiting lines of people. They also passed out candy to children. Some had never seen candy before.
"We'd just give toothpaste and deodorant and they would hug us and kiss us. They have so little, but they were so generous. They would feed us, give us something to drink," Debbie Waltemuth said.
Seven New Life members went to New York City July 17-22, including Stephanie Evans, an administrative assistant at New Life. She'd hoped to go to El Salvador, but her passport was delayed, so she flew to the Big Apple instead.
At the Living Waters Fellowship in Brooklyn, the group served in a soup kitchen, assisted with a children's ministry and partnered with City Relief, a mobile social outreach ministry.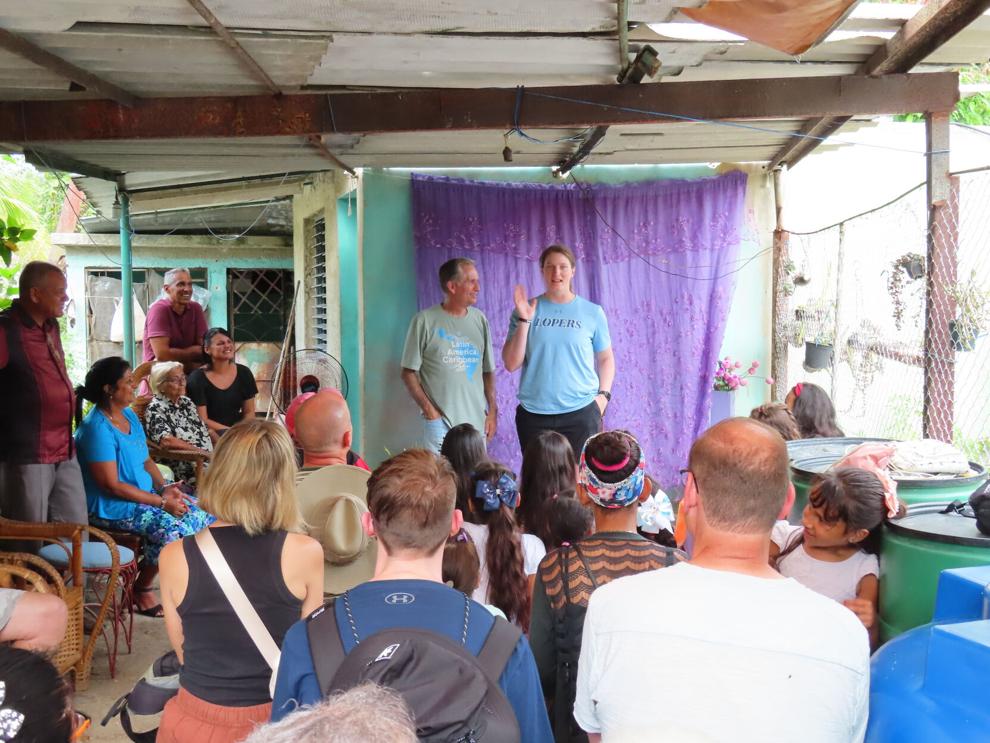 Dan Irizarry left, a missionary, and New Life member Brooke Carlson speak to a gathering inside a fledgling home church in Cuba.


COURTESY NEW LIFE CHURCH


"It was my first time in New York and I was a bit nervous, but once I got grounded, I used my servant heart to connect with people, to encourage them and pray with them," she said.
"My heart grew a little bigger and my love for the power of God did too," she added.
Perhaps the most wide-eyed traveler this year was Craig Bennett. He has served on the Kingdom Builders task force for 20 years, but he had never applied for a passport until he was nudged into being the trip leader.
Every year, they'd ask him to go. Every year, he'd say he was too busy. He works for Miller & Associates, and with a wife and two sons and his deep involvement in church activities, time was a solid excuse. But not solid enough.
"In late 2019 they told me I was going, and I geared up, but then in 2020, due to COVID, that trip got canceled," he said.
He finally got his chance in May. He was named team captain, which meant coordinating prayer time on the trip along with other aspects, and being prepared for the unexpected.
Bennett not only led three pre-trip meetings; he took $10,000 in cash, donated by church members, to distribute to churches and ministries in Cuba. He made decisions about distribution on the spot.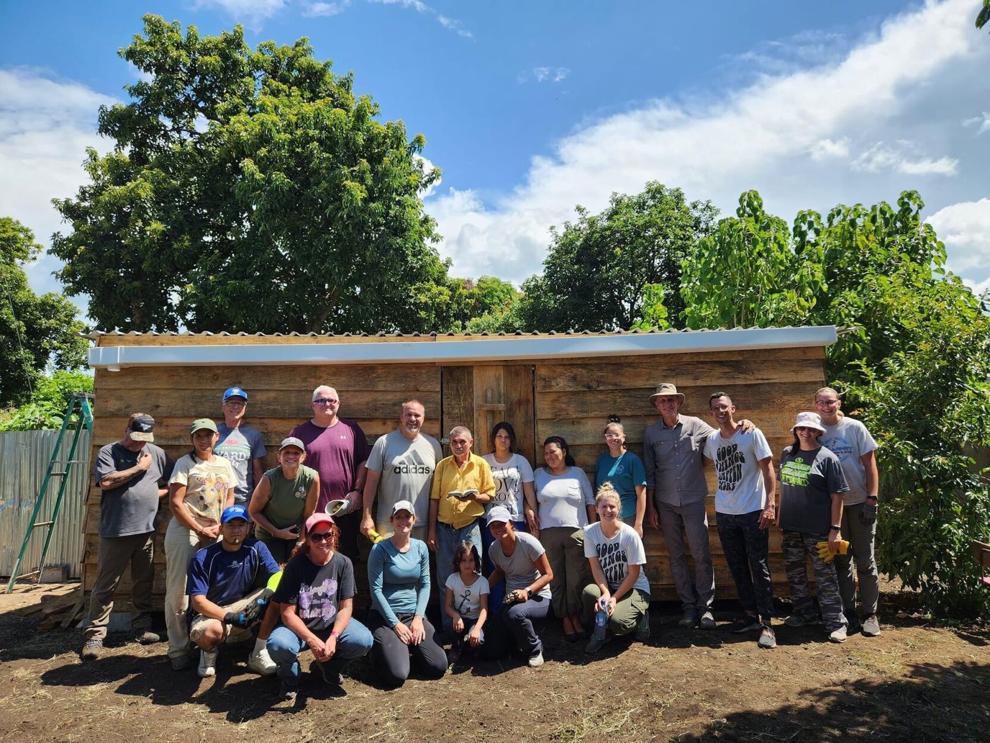 Twelve members of New Life church helped build this home in El Salvador Aug. 7-14 for the man in the yellow shirt in the middle of the back row.


COURTESY NEW LIFE CHURCH


"We gave money to places with need, whether it was a church or a Christian college or a program for people with addictions," Bennett said. "We would prayerfully ask the Holy Spirit what we could give. The average income in Cuba is just $25 or $30 a month, so $4 goes a long way."
Bennet called serving on the Kingdom Builders task force "invigorating." The task force supports overseas missionaries; in 2022, the church gave $218,562 to support 35 missionaries and projects.
Based on a number of factors, "We prayerfully consider where God is leading us to go the next year," he said.
Kingdom Builders pays half the trip cost for first-timers because "we know it will change their lives," Baker said. The program averages 10 to 15 newcomers each year.
Bennett said the trip made him ponder many things, including the depth of his faith. "I've seen people who are challenged physically, occupationally, financially, and oppressed by their government have a stronger faith than many of us in the U.S. who are blessed with so much more," he said.
"Their faith and love for Christ encourages me to be cautious with being comfortable and content with faith. Some are stretched and reliant on God each day for every meal. Many times, I take it for granted," he added.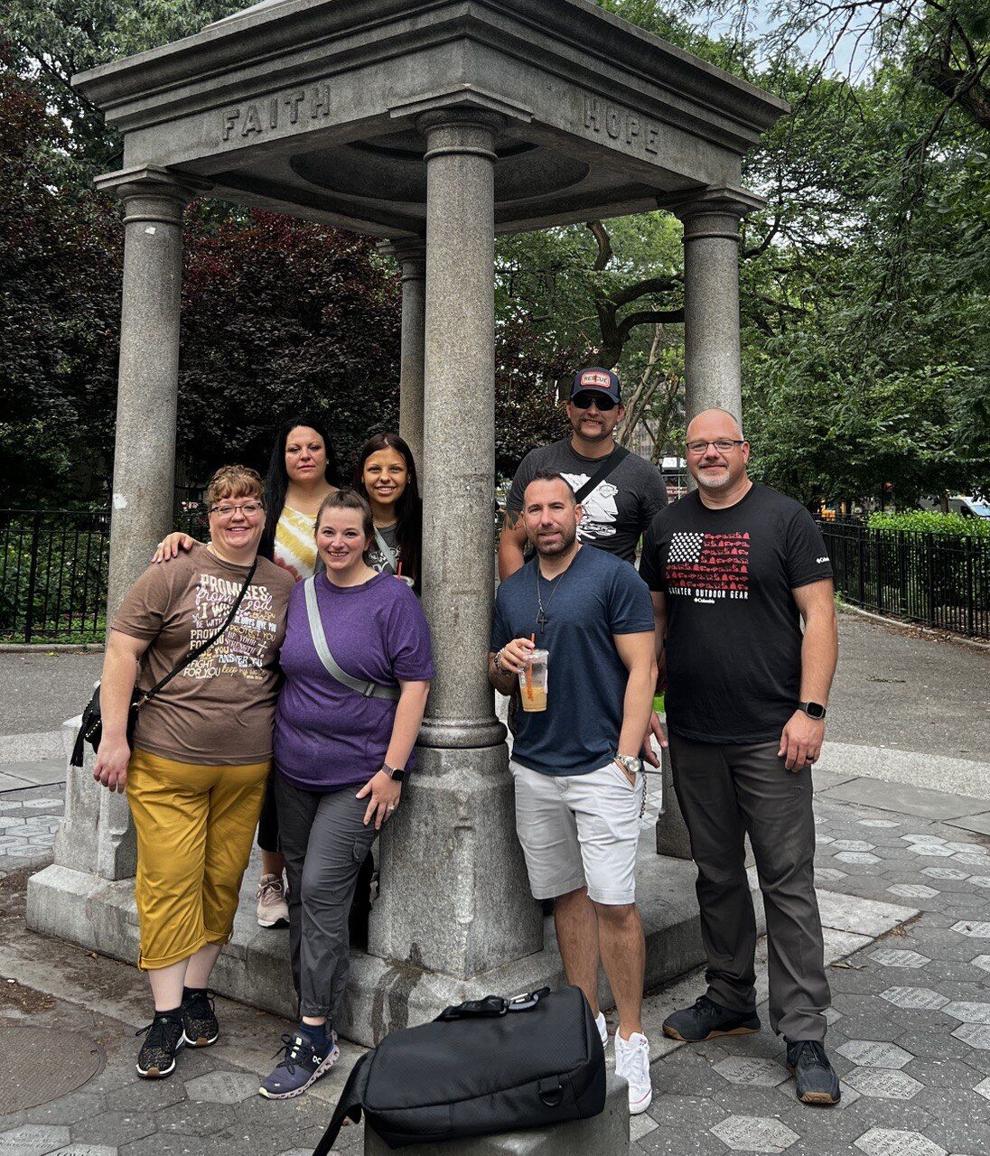 New Life members who went to New York City in July included, front row, from left,  Stephanie Evans, Katelyn Bennett, Joey Moore and Chris Puccini. In the back row, from left, are Tanille Keefer, Makenna Smith and Quincy Bennett. 


COURTESY NEW LIFE CHURCH


Pat Waltemath was shaken by meeting people who rely on God for everything, including the next dollar. "We were in the trenches for eight or nine days with people waiting on God for their next meal or the next bill to be paid. We have hot and cold running water, a soft bed and a toilet seat. We take that for granted."
Bennett agreed. "I'd be in tears. We have so much, and we are so ungrateful. The simplicity of their lives is what makes them special," he said.
"Don't expect others here to understand what you've experienced because although you can talk about it, being there is completely different," Debbie Waltemath said.
Such realizations are why Baker believes these trips are so powerful.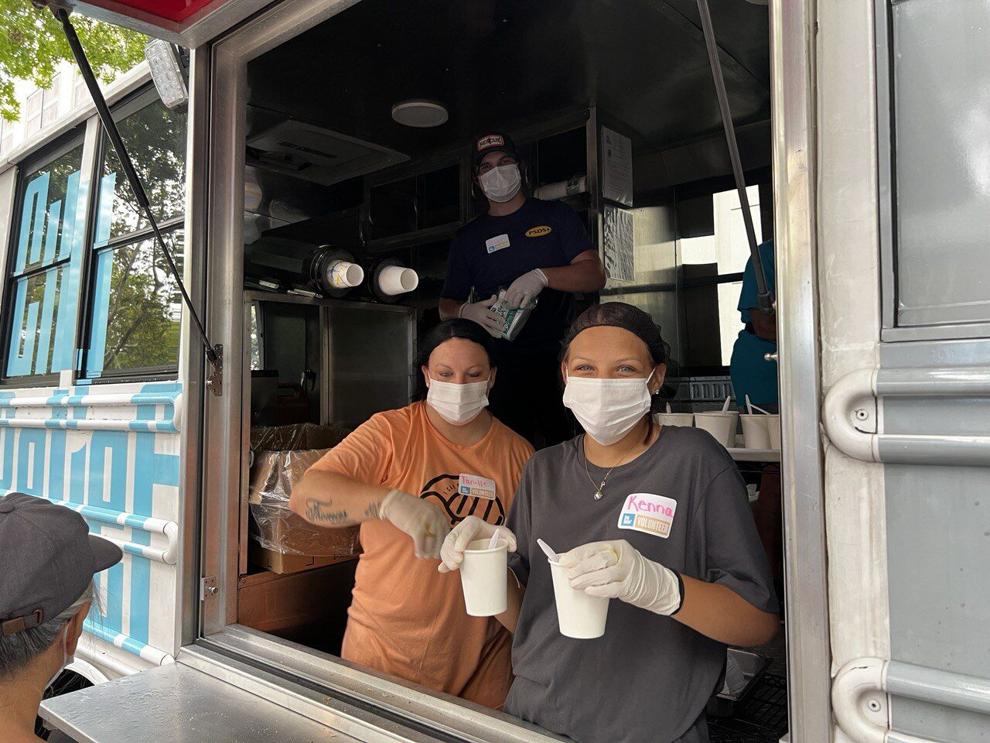 From left, Tanille Keefer and Makenna Smith, front, and Quincy Bennett, behind them, serve hot meals with City Relief in New York City in July.


COURTESY NEW LIFE CHURCH


"I don't think you understand how blessed you are until you see how the rest of the world actually lives," Baker said. "Of the seven or eight billion people on this planet, few live like us. When you go to Cuba, there is no Walmart, no Hy-Vee, no Target. Everyone scrapes together on what pesos they put together just to get by."
On the Cuba trip in May, Baker spent 10 days with a man who feeds the homeless. "This man had 16 men in his addiction program, but he had just $4 to his name when I ran into him. Yet he had joy, He told me, 'I believe the Lord's gonna provide. He always comes through at just the right time.'"
Baker added, "That's what we mean by living by faith and trusting God: not having much but dreaming big dreams."
Baker hopes that all New Life members — roughly 1,400 collectively at its Kearney, North Platte and Ogallala campuses — can someday have a GO experience.
"You wipe away governments and country lines, and all humans have the same needs, no matter where they live. Everyone wants to feel needed, wanted and loved," Baker said.
Get local news delivered to your inbox!
Subscribe to our Daily Headlines newsletter.