Oakland Tankless Water Heater Company, Albert Nahman Plumbing Now Offering BioSmart for Drain, Septic and Grease-Trap Cleaning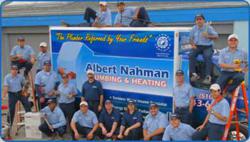 BioSmart starts working immediately after installing a drain or collection system
Berkeley, CA (PRWEB)
May 08, 2012
Albert Nahman Plumbing of the Oakland area now offers BioSmart, a microbial drainage solution for cleaning drains, septic tanks and grease traps. Berkeley-based Nahman Plumbing is the exclusive seller of BioSmart, which is made from naturally occurring strains of living, vegetative bacterial cultures with an extraordinary appetite for organics.
"BioSmart begins immediately with the introduction of a drain or collection system," said Albert Nahman of Albert Nahman Plumbing. "BioSmart's bacterial cultures do not require a wake-up phase like some other microbial products. BioSmart is easy to use and as easy as pour and go. "
In addition, BioSmart does not need to be premixed. The right amount of treatment is added to the drain line or collection system with the handy return bottle cap meter. BioSmart requires half a cap per treatment. Half a cap of BioSmart contains more bacterial activity than five capsules of other organic products.
BioSmart continues to work long after the service call, as the bacteria feed on the organic debris that remains in the drain pipe, grease trap, or septic tank long after the technician has left. BioSmart has met the EPA's DfE challenge for biological drain and septic tank products by demonstrating a positive profile for human health and the environment.
For more information about BioSmart or other Nahman Plumbing services, call 510-926-6081 or visit http://www.albertnahmanplumbing.com. Albert Nahman Plumbing is located at 3333 Martin Luther King Jr. Way in Berkeley.
About Albert Nahman Plumbing
Albert Nahman Plumbing is a family business that has operated in the Oakland area for 30 years. Nahman established its excellent reputation for consistently providing high quality plumbing services to every customer. Nahman Plumbing believes that a well-served customer will stay with the company for the future and recommend the company to friends and family. Nahman Plumbing, specializing in instant water heaters, drain cleaning, trenchless sewer replacement and other services, is a full-service plumbing company dedicated to providing exceptional service and guarantees for homeowners, apartment managers or construction professionals.
Share articles on social media or via email: