For plumber Paige, writing children's books is about teaching how to fix things around the house, but it's also about promoting more people, especially young women, to get into the trade.
Paige Knowles was the guest of honor during the virtual Skills Ontario International Day of the Girl celebration on October 11.
Knowles wrote and illustrated two step-by-step books: Let's Replace A Shower Head and Let's Fix a Running Toilet. She is now a writer, YouTuber and ambassador for KickAss Careers.
"It's not how I imagined my future, but it opened my eyes to the fact that there are no advocates for the craft. There's nothing that really motivates you," Knowles said. "As a young student looking to pursue this non-traditional career path, I wanted to see more support for it. I became the support so future generations would have the support and be encouraged to think and think about it.
"It's just about telling the girls they can get into the industry but also to let kids work with their hands and not be afraid to get dirty and learn about how their house is is working."
Knowles, who is currently studying construction management, got his start in the plumbing and heating lab during high school.
"During half the day of tech school in my junior and senior years, I got to go out and work at a company, so while I was in school I was paid to go to work and learn the skill," Knowles recalled.
While she wanted to do it, she admits that her guidance counselors and teachers tried to discourage her from pursuing a career in trades when she was a straight-A student.
"I've had a couple of guidance counselors who didn't support me getting into tech school, and that really impressed me. It made me wonder if I really wanted to do this. I'm really happy that I had the support system at home," said Knowles.
In the end, she decided to follow her passion.
SCREEN GRAB — Paige Knowles, author, YouTuber, and KickAss Careers Ambassador, was the guest speaker during the virtual Skills Ontario International Day of the Girl celebration on Oct. 11. She spoke about her two books, Let's Replace A Shower Head and Let's Fix a Running Toilet, and the importance of working to get more young women into the workforce.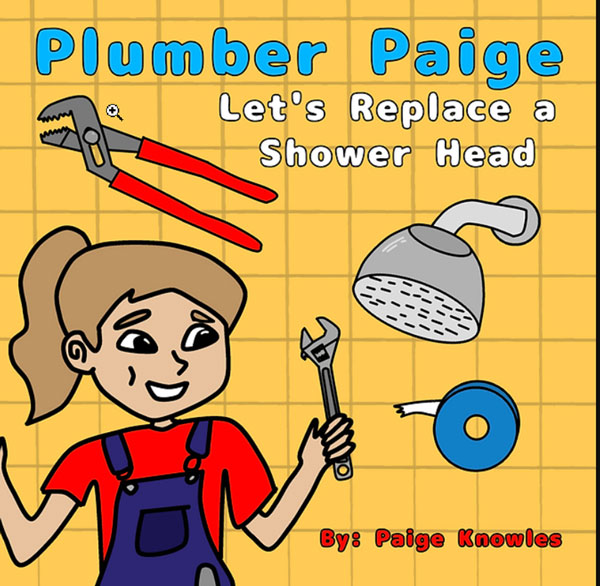 "I don't think it has to be either/or, tech school or college," Knowles said.
"I'm a great example because I learned the trade and I want to continue doing that, but I'm also taking some college courses."
Knowles was introduced to the craft at a young age.
"My parents are real estate investors, so growing up I thought I wanted to own houses like this," she said.
"As kids we only did little things like painting and palette knife work, but we got used to working with our hands. I figured tech school would be beneficial just to learn a few handy tricks. When I was there it was just so much fun and I loved everything about it so I decided to stick with it and work for a plumbing company."
She held positions in electrical, plumbing, and HVAC, but was drawn to plumbing.
"If something's clogged or something's not working, you go in and do the work personally and make it work again, so you're kind of a superhero," Knowles said.
"They're fixing something they need access to, so I just love how rewarding it is."
Knowles got involved in advocacy when the pandemic struck.
"I was a student, I graduated class of 2020, so I missed graduation," Knowles said.
"We were in lockdown and I had to figure out what I was going to do. My teacher loved sharing my story, so after graduation I was able to join him on podcasts to talk about me. By sharing my story, I found a whole new career path as a sales representative. I want more people to join because it's so much fun and so valuable to have those skills."
She encouraged young girls watching the webinar, which was aimed at grades 5 through 8, not to be afraid and to take the time to explore options when they are young.
"As you get older it becomes more expensive and much more difficult to change career paths, so explore all your options now, even if you didn't think you would, give it a try while you're young," Knowles said.
"That will tell you if it's something you can or want to do, or if you really don't want to do it."
For more information on Plumber Paige click here.
Follow the author on Twitter @DCN_Angela